The bar codes are the codes used to indicate the type of the bar form. These bar codes can be set by selecting the menu "Lay-out" – "Bar codes…". The following dialog box appears on the screen:
In this form you can indicate which code to use for which form. Select a form and type the desired code in the edit box. The bar codes have no restrictions. One bar code be used for different forms. The sequence of the dimensions in the form text corresponds to the alphabetical order of the with letters named fold lengths.
With the button "Store" you can save the current input as default. With the button "Retrieve" you can replace the current content of the dialog with the default values.
Staafcodes zijn codes die gebruikt worden om aan te duiden welke type-vorm de staaf heeft. Deze staafcodes kunnen ingesteld worden via het menu "Layout" – "Staafcodes…". Op het scherm verschijnt volgend dialoogvenster: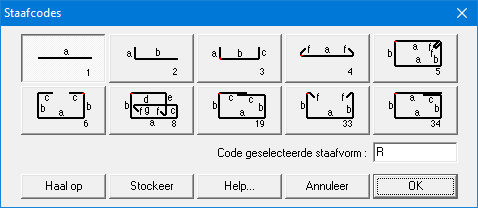 In dit venster kan je aangeven welke code hoor bij welke vorm. Selecteer hiervoor een bepaalde vorm en typ vervolgens de respectievelijke code in.
De staafcodes zijn volledig vrij op te leggen door de gebruiker. Eenzelfde staafcode kan voor verschillende staafvormen gebruikt worden.
De volgorde van de afmetingen in de vormtekst stemt overeen met de alfabetische volgorde van de met letters benoemde deellengtes (plooilengtes).
Met de knop "Stockeer" bewaar je de huidige inhoud als default inhoud. Met de knop "Haal op" vervang je de huidige inhoud van het dialoogvenster door de default inhoud.
Les codes des barres sont des codes qu'on utilise pour spécifier le type de la forme de la barre. Si vous souhaitez modifier ces codes de barres, allez vers le menu "Format" – "Codes des barres…". La fenêtre de dialogue illustrée est alors affichée à l'écran :
Dans cette fenêtre, vous indiquez quel code correspond à quelle forme. Il faut justement cliquez sur une forme et ensuite introduire le code dans la case avec le clavier.
Les codes peuvent être choisis librement par l'utilisateur. Un même code peut être utilisé pour différentes formes.
La séquence des dimensions dans le texte de forme correspond à l'ordre alphabétique des longueurs à plier.
Avec le bouton "Sauver", vous enregistrez le contenu actuel comme contenu par défaut. Avec le bouton "Appeler" vous remplacez le contenu actuel de la boîte de dialogue par le contenu par défaut.