In this window you can indicate of which limit state the reaction should be displayed in the 'Structure and loads'-Window. Furthermore, you can also
indicate that the 'Structure and loads'-window should show the maximum required upper and lower reinforcement per zone
show the maximum (in cracked condition computed) deflection among the rare-permanent and / or quasi-permanent combination
show how the deflections relate to the span length
show the maximum increase of the deflections under the rare combinations compared to the deflections under the quasi- permanent combination (possibly also in relation to the span length).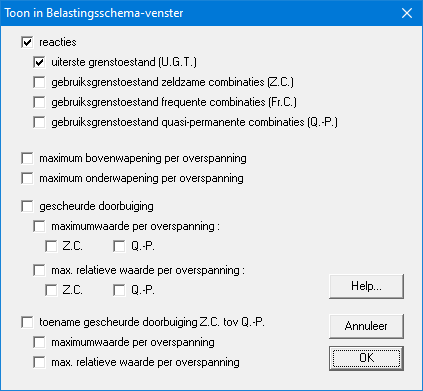 Hierin kan aangeduid worden in welke grenstoestand(en) we de reacties in het "Belastingsschema"-venster afgebeeld moeten worden. Verder kan ook aangeduid worden
om in dat venster te zien wat de maximaal vereiste boven- en onderwapening per zone is,
wat er de maximale (in gescheurde toestand berekende) doorbuiging is onder de zeldzaam aanwezige en/of onder de quasi-permanente combinatie,
hoe die doorbuigingen zich relatief verhouden tot de overspanningslengte
wat de maximale toenamen zijn van de doorbuiging onder de zeldzaam aanwezige combinaties t.o.v. deze onder de quasi-permanente combinatie (eventueel ook in verhouding tot de overspanningslengte).
Cliquez sur les différents états pour lesquels vous souhaitez voir apparaître les réactions dans la fenêtre "Structure & charges". De plus, vous pouvez demander d'afficher
par zone les quantités maximales de l'armature inférieure et supérieure
les valeurs maximales de la déformation (calculée en tenant compte de la fissuration) sous les combinaisons rares et la combinaison quasi-permanente.
les déformations maximales avec leurs valeurs relatives aux longueurs des portées.
l'accroissement de la déformation sous les combinaisons rares par rapport à celle sous la combinaison quasi-permanente.