ConCrete offers the possibility to transmit a message to ConCrete Plus. This can be very important when the person who calculated the project with ConCrete is not the same as the one who will draw it with ConCrete Plus. We can enter such a message by clicking on the button 
in the Structure and loads window. A dialog box, in which we can enter the desired message, is now visualized on the screen. When printing this beam, the message will be printed along with the entry data. When this beam is opened in ConCrete Plus, a dialog box with this message automatically appears on the screen.
Eer is in ConCrete de mogelijkheid om boodschappen door te geven naar ConCrete Plus. Dit kan heel belangrijk zijn wanneer de persoon die het project berekend heeft met ConCrete niet dezelfde is als deze die het project zal uittekenen met ConCrete Plus. Die boodschap kan ingegeven worden door in het "Belastingsschema"-venster op de knop
 te klikken. Er verschijnt dan een dialoogvenster op het scherm, waarin de gewenste boodschap opgeschreven kan worden. Bij het uitprinten van deze balk zal deze boodschap samen uitgeprint worden met de invoergegevens. Wanneer deze balk in ConCrete Plus geopend wordt, verschijnt daar automatisch een dialoogvenster met deze boodschap op het scherm.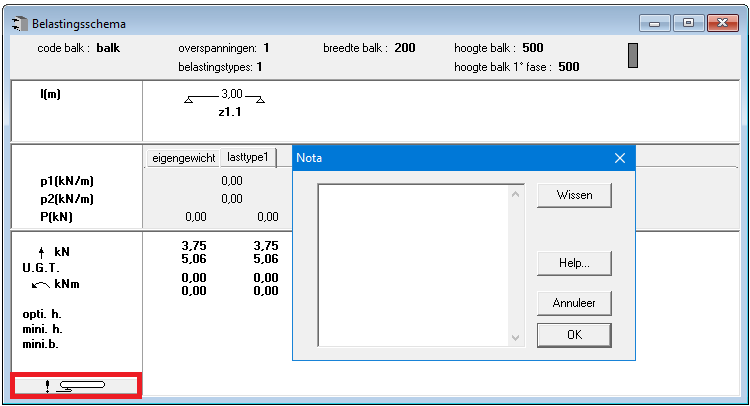 ConCrete offre la possibilité de transmettre des messages vers ConCrete Plus. Cette opération peut s'avérer très utile lorsque la personne qui a calculé le projet avec ConCrete n'est pas la même que celle qui travaille avec ConCrete Plus. Pour introduire un message, cliquez sur
dans la fenêtre "Structure & charges". Une fenêtre de dialogue s'affiche alors à l'écran. Tapez votre message. Lorsque vous imprimerez cette poutre, le message est imprimé en-dessous des données introduites. Si une personne ouvre cette même poutre dans le programme ConCrete Plus, elle voit s'afficher automatiquement une fenêtre de dialogue dans laquelle figure le message.