Once the beam is fully implemented, just click the bold text below the sketch of the beam (eg "z2.1" span 2, Zone 1) to add the zones. The screen then displays the dialog below.
If for example, the zone should be split into 2 parts, then click on the arrows until a 2 appears in the box next to it. The program automatically creates a list of the number of zones and with a uniform distribution of the length. We may wish to make an unequal division, by changing the sections length.
The button 'Check' allows you to check the entered values.

If the designated area is already part of a span which has multiple zones, we can choose to delete the indicated zone (Figure 24). When the first zone is removed, the second zone will start from the left end of the span. If you remove another zone then the first one, then the previous zone will be extended until the end point of the removed zone.
The zones can also be manipulated using a popup menu. To do so, right-click the name of the zone: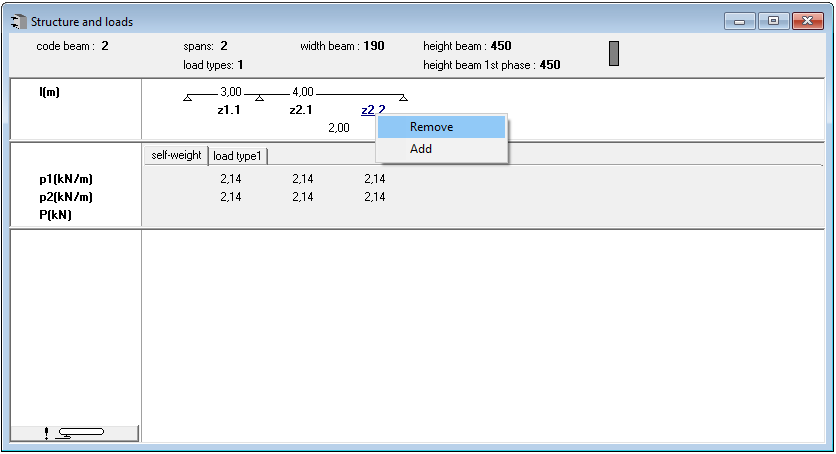 The first item "Delete" will only be selectable if the span consists of more than one zone.
The item "Add" allows you to create an additional zone. The function divides the designated area into two equal parts.
Eenmaal de balk volledig ingevoerd is, volstaat het de vette tekst onder het schetsje van de balk (bijvoorbeeld "z2.1", overspanning 2, zone 1) met de muis aan te klikken. Op het scherm verschijnt dan onderstaand dialoogvenster.
Moet de zone bijvoorbeeld in 2 delen gesplitst worden, klik dan op de pijltjes tot er een 2 verschijnt in het vakje ernaast. Het programma maakt automatisch een lijst op met het aantal zones en een gelijkmatige verdeling ervan. We kunnen desgewenst een ongelijke opsplitsing maken, door de door het programma voorgestelde deellengte(s) te veranderen.
De knop "Controleer" laat toe de ingegeven waarden te checken.
Maakt de aangeduide zone deel uit van een overspanning waar reeds meerdere zones aanwezig zijn, dan kunnen we kiezen om de aangeduide zone te verwijderen (Figuur 24). Wordt de eerste zone verwijderd, dan zal de tweede zone reeds aangrijpen vanaf het linker einde van de overspanning. Wordt een andere dan de eerste zone verwijderd, dan zal de voorafgaande zone worden doorgetrokken tot het eindpunt van de te verwijderen zone.
De zones kunnen ook gemanipuleerd worden met behulp van een pop-up menu. Klik hiervoor met de rechtermuisknop op de aanduiding van de zone:
Het eerste item "Verwijderen" zal slechts selecteerbaar zijn als de overspanning meer dan één zone omvat.
Het item "Toevoegen" laat toe een bijkomende zone te creëren. De functie verdeelt de aangeduide zone in twee gelijke delen.
Une fois que l'introduction de la poutre est terminée, il suffit de cliquer avec la souris sur le texte "z2.1". Cette procédure affiche une fenêtre de dialogue à l'écran:
Si vous indiquez de diviser la zone en deux parties, ConCrete vous propose automatiquement de diviser la zone en deux parties identiques d'une longueur de 2.00 m. Néanmoins, vous pouvez introduire une répartition irrégulière, en changeant les longueurs proposées par le logiciel.

Si la zone considérée appartient à une portée qui est déjà subdivisée en plusieurs zones, il est possible d'éliminer la zone sélectionnée. En éliminant la première zone, la deuxième zone va s'affecter à partir de l'extrémité gauche de la portée. En éliminant toute autre zone, la zone précédente s'allongera jusqu'à l'extrémité droite de la zone à éliminer.
Voici une deuxième méthode pour modifier les valeurs introduites : Cliquez avec le bouton droit de la souris l'indication de la zone pour voir apparaître un menu flottant:
'Supprimer' vous permet de supprimer cette zone, pour autant que la travée comprend plusieurs zones.
'Insérer' divisera la zone en deux zones nouvelles (ayant chacune une longueur égale à la moitié de la longueur de la zone initiale).