Select the option "Maximum bar lengths" in the menu "Preferences" to set the maximum bars lengths. For each diameter a different maximum length can be defined. Bars for with the theoretical length exceeds the maximum bar length, will be split automatically. The lap length and anchorage length are also considered.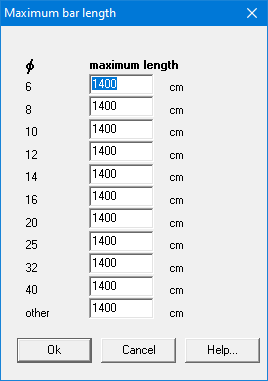 Selecteer in het menu "Voorkeur" de optie "Maximale staaflengtes" om aan de staven een maximale staaflengte op te leggen. Voor iedere diameter kan een maximale lengte gedefinieerd worden. Staven waarvan de theoretische lengte groter is dan de maximale staaflengte, worden dan automatisch gesplitst. De overlappingslengte en verankeringslengte worden mee in rekening gebracht.
Sélectionnez la commande "Longueur maximale des barres" du menu "Préférences". Pour chaque diamètre de barre, vous pouvez définir une longueur maximale. Les barres dont la longueur théorique est plus grande que la longueur maximale donnée seront coupées. La longueur d'ancrage et de chevauchement sont pris en compte.