The button
 allows you to generate wind loads from left to right and visa versa. Above that, Eurocode states that for the same wind direction, sometimes both upward and downward wind pressure should be considered. It's logic that a structure should be able to bear all the different cases.
Wind load generator on 2D frames:
The upper (black) part of this dialog shows an image of the structure.
1•2•Build will automatically search the circumference on which wind loads will be applied. This is the path between points 1 and 2. You can move points 1 and 2 by using the left and right mouse button respectively.
In the second part of this dialog, you must indicate for which load cases you want to generate the wind loads.
Below that, you must enter the geometry data of the structure:

The total length of the building.
The distance between the frames
The position of the frame withing the building (front or middle frame)
The structural factor (see EN 1991-1-4 §6).

At the bottom there are two buttons: one to define the internal pressure coefficients and one for the terrain parameters.
De knop
 laat u toe de wind te genereren van links naar rechts en visa versa. Bovendien zegt Eurocode, dat u binnen dezelfde windrichting, soms ook nog eens neerwaartse en opwaartse winddruk moet beschouwen. Het spreekt voor zich dat een gebouw moet kunnen weerstaan aan alle mogelijke belastingsgevallen.
Windgenerator op 2D raamwerken:
De bovenste (zwarte helft) van dit venster toont een tekening van de structuur.
1•2•Build zoekt automatisch de omtrek waarop de windbelasting zullen aangrijpen. Dit is de omtrek tussen punt 1 en punt 2. U kan punten 1 en 2 verplaatsen met respectievelijk de linker- en rechtermuisknop, maar punt '1' moet steeds links van punt '2' staan
In het tweede helft van het dialoogvenster moet u aanvinken voor welk(e) belastingsgeval(len) u de windbelasting wil genereren. Meestal worden alle gevallen geselecteerd.
Daaronder moet u de geometrische gegevens van de structuur ingeven:

De totale lengte van het gebouw.
De afstand tussen de portieken.
De plaats van de portiek in het gebouw (kopspant of een middenspant).
De structuurfactor (zie EN 1991-1-4 §6).

Onderaan heeft u nog twee knoppen: één voor de inwendige drukken en één voor terreinparameters
Le bouton
 vous permet de générer le vent de gauche à droite et vice versa. De plus, l'Eurocode indique que pour la même direction du vent, vous devez parfois de prendre en compte la pression du vent vers le bas et vers le haut. Il est logique qu'une structure doit pouvoir supporter tous les cas différents.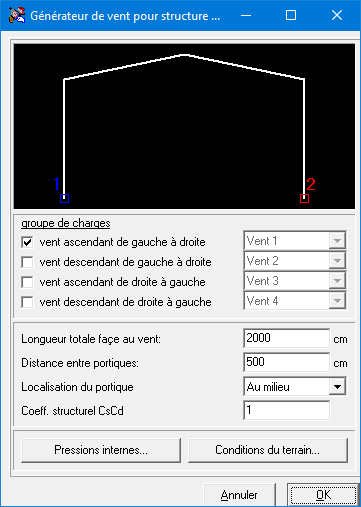 Générateur de vent sur des structures 2D:
La partie supérieure (moitié noire) de cette fenêtre montre un dessin de la structure.
1•2•Build trouve automatiquement le périmètre sur lequel la charge du vent va agir. C'est le périmètre entre le point 1 et le point 2. Vous pouvez déplacer les points 1 et 2 respectivement avec les boutons gauche et droit de la souris. Mais le point '1' doit toujours être à gauche du point '2'.
Dans la seconde moitié de la boîte de dialogue, vous devez vérifier pour quel(s) cas de charge vous souhaitez générer la charge de vent. Généralement, tous les cas sont sélectionnés.
En dessous, vous devez entrer les données géométriques de la structure:

La longueur totale du bâtiment façe au vent.
La distance entre les portiques.
La position du portique dans le bâtiment (portique au bord ou portique au milieu).
Le facteur de structure (voir EN 1991-1-4 §6).

En bas, vous avez deux autres boutons : un pour les pressions internes et un pour les paramètres de terrain.